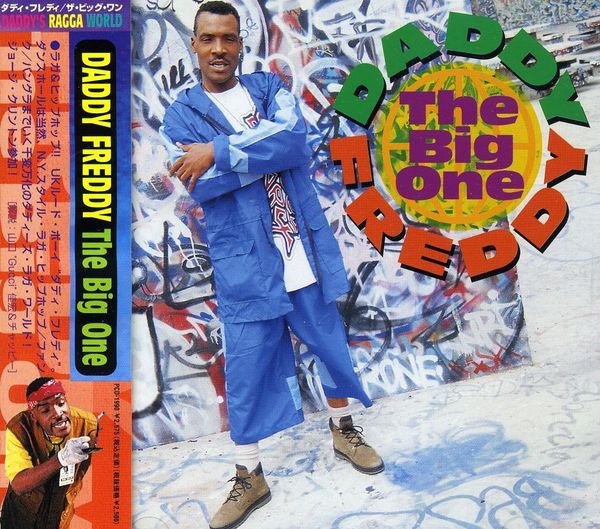 In 1987 Daddy Freddy teamed up with Asher D and together with producer Simon harris, created a blueprint for the first successful amalgamation of dancehall reggae (ragga-see below) and hip hop. Their debut album "Ragamuffin hip hop" sold reasonably well in the UK, on Music of Life, in the USA, on Profile Records and throughout Europe on various labels. The new sound inspired a new interest in combining reggae with contemporary dancefloor styles and a sound that continues today was born.
Freddy continued this frontier busting style by making "Ragga House" with Simon Harris and again a new style was born, house music and ragga. This single narrowly missed the UK pop top 40 charts.
Renowned live performances have always been Freddy's hallmark, most notably at the New Music Seminar in new York and Tim Westwoods live rap shows on Capital radio. In 1989 Freddy gained an entry into the Guinness Boo k of Records as the World's fastest rapper as part of the Capital radio Music Festival and later beat his own record with a rap of 507 syllibals per minute on BBC's Record Breakers show where he appeared with the great Roy Castle. Freddy also appeared on CNN, BBC's famous children's show Blue Peter and many more. Freddy had another near hit with Pain Killa featuring a video produced by Simon harris in LA, worked with Heavy D, Frankie Paul, Muggs from Cypress Hill, Sly and Robbie and Bobby Kondors on the Chrysalis album Raggamuffin Soldier. Freddy's best album was Stress and he later released his last album for Music of Life, The Big One.
1 Love Sick
2 Keep Talkin'
3 Pain Killa
4 Rude Boy
5 Thru The Dancehall
6 The Girl Is Fine
7 Spanish Lingua
8 Mikey!
9 Boo Yaka
10 How We Do It
11 The Big One
12 Bye Bye Love
13 Keep Talkin' (Dub Mix)
Flac
http://uploaded.net/file/gsf3ji0m
320kbps
http://uploaded.net/file/0108rddf