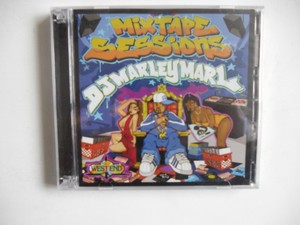 One of hip-hop's smartest innovators, veteran New York DJ Marley Marl presents a seamless collection of old-school tracks that conjure the spirit of the 1980s, complete with fresh synthesizer sounds, beats, and rhythms. Highlights include Loose Joints' electric piano-laced "Is It All Over My Face," Taana Gardner's classic mid-tempo dance track "Heartbeat" (Sweet G's rap over the track is another trip back in time), and Diamond D's "Fresh Avenue," complete with frantic beatbox beats and vintage rapping.
Never seen this in anywhere in such quality before.. Actually i didnt know about this release at all, till i accidentally found it for good price for sale. Don't sleep if you're one of those who lives with the funk, sleeps with the funk and eats with the funk!
1 track was missing – so it's added now.
Mixed (CD1)
1-1 –Taana Gardner Heartbeat 2:55
1-2 –Sweet G A Heartbeat Rap 1:13
1-3 –D'Bora No Sense 2:03
1-4 –Diamond D Fresh Avenue 3:03
1-5 –DJ Divine Get Into The Mix 1:41
1-6 –Sesso Matto Sessomatto 2:58
1-7 –B+ B-Beat Classic 3:34
1-8 –Raw Silk Do It To The Music 5:13
1-9 –NYC Peech Boys* Don't Make Me Wait 5:42
1-10 –Mahogany Ride On The Rhythm 3:46
1-11 –Shirley Lites Heat You Up (Melt You Down) 4:50
1-12 –Loose Joints Is It All Over My Face 6:06
1-13 –Taana Gardner Work That Body 4:18
1-14 –Billy Nichols Give Your Body (Up To The Music) 3:18
1-15 –Taana Gardner When You Touch Me 7:23
Bonus Track
1-16 –Marley Marl Feat. MC Shan Move Like This 4:21
Unmixed (CD2)
2-1 –B+ B-Beat Classic 5:49
2-2 –Diamond D.* Fresh Avenue 7:02
2-3 –Sesso Matto Sessomatto 10:32
2-4 –D'Bora No Sense 6:56
2-5 –DJ Divine Get Into The Mix 6:37
2-6 –Loose Joints Is It All Over My Face 7:08
2-7 –Shirley Lites Heat You Up, Melt You Down 6:59
2-8 –Marley Marl Feat. MC Shan Move Like This (Breaks) 4:21
Flac
http://uploaded.net/file/kwfa2q28
320kbps